Got a question about any of the events?
We've got answers for you below. And if you still can't find what you're looking for, you can get in touch here.
Challenge
COVID-19: how can I take part when I'm self-isolating or social distancing?
We must all take precautions to help reduce the transmission of COVID-19, and we encourage you to keep up-to-date with the latest government guidance. Current government advice is that you can go for a walk or exercise outdoors if you stay more than two metres apart from others. As the Treble Challenge is a virtual event, you do your activities on your own. Thousands across the UK will also be taking part in their own way, so although you'll be doing it on your own, you won't be alone. While gyms and swimming pools are closed, we encourage you to focus on running and cycling for now – you can get back in the pool when the facilities re-open. You can view the latest government advice on social distancing here or if you have any questions email us at sportingevents@alzheimersresearchuk.org.
How will the current situation affect me receiving my Treble kit for this challenge?
At the moment, the fulfilment organisation that we work with, Partridges, are remote working, like most of the UK. Therefore, all fulfilment activity for the next three weeks have been put on hold. This is in line with government guidelines, to ease pressure on the postal and delivery networks during this period, and to keep their staff safe. This means that any items that you order, or that you're due, will be delayed. Don't worry though, you'll still get your item once the service resumes again and we'll keep you updated. Thank you for your patience and understanding.
What are Treble Challenge, Running Down Dementia, Swimming Down Dementia and Cycling Down Dementia?
The Treble Challenge is our brand new virtual triathlon, supported by Garmin. Run, cycle, swim between 1 April and 31 December 2020 to raise money for dementia research. Choose from the Pioneer distance, an Epic distance or go Maverick and choose your own to suit you. Do the challenge your way, in your own time – but make sure you challenge yourself! The harder people see you working, the more they'll want to sponsor you – and every pound raised helps make breakthroughs possible in dementia research.
Running Down Dementia is our award-winning virtual running challenge, in partnership with parkrun. Challenge yourself to run, walk or job 100km (Pioneer), 300km (Epic) or a distance of your choice (Maverick) and raise £100 for cutting-edge dementia research. Running Down Dementia runs from 1 April to 31 August and you can complete your challenge in any way, at any time.
Cycling Down Dementia is a virtual cycling challenge for those want to take on a challenge this winter. Between 1 April and 30 June, ride 300km (Pioneer), 1,500km (Epic) or a distance of your choice (Maverick) and raise £150 or more for vital dementia research.
Swimming Down Dementia is a virtual swimming challenge. Between 1 September and 31 October, get in the pool and raise much-needed funds to make breakthroughs possible in dementia research. Choose your challenge and swim 10km (Pioneer), 30km (Epic), or a distance of your choice (Maverick).
Which one will you choose? :)
a. First decide which challenge is right for you, whether you want to do Running Down Dementia, Swimming Down Dementia, Cycling Down Dementia or combine all three to do the Treble Challenge.
b. Running Down Dementia runs from 1 April to 31 August, Cycling Down Dementia runs from 1 April and 30 June, Swimming Down Dementia runs from 1 September to 31 October, and the Treble Challenge runs from 1 April to 31 December. With the Treble Challenge you run, cycle and swim anywhere, at any time (within reason, of course!). You can mix things up or have dedicated months for each discipline, whatever works for you! You just need to log all your activities on your everydayhero account. So, first thing's first: register to the one that most takes your fancy.
c. Choose your distances. Make sure it's a challenge: go Pioneer (perfect for beginners looking for a challenge), Epic (for those wanting a big challenge for the year), or Maverick (choose your own distances). Then set your fundraising target to reward your brilliant efforts and raise money for dementia research. You can update both later if you hit your goals.
d. Follow the steps to create your challenge page, where friends and family can view your progress and sponsor you. If you have a tracking device, then make sure you connect your supporter page to either Strava (watch this video to find out more) or MapMyFitness (watch this video to find out more) to make sure your activity is tracked. You can also manually add your activities on your everydayhero page.
e. Be sure to track or log every activity you do. It all counts!
f. Get going! Activities logged after the challenge start date will count towards your total. If you're looking for inspiration and motivation during your challenge, join our dedicated Facebook groups: Treble challenge - TeamARUK, Running Down Dementia, Swimming Down Dementia and Cycling Down Dementia.
To take part in any of the four challenges, all you need to do is sign up to one of them. You can choose how and when you run, cycle, swim - just make sure you complete your fundraising and distance between the dates given. You can log your activities any way you like, whether that's with a fitness watch or manually.
What are the Epic, Pioneer and Maverick challenges?
It doesn't matter if you're a fitness fanatic or complete beginner, these challenges are all about setting and smashing your own targets. Pioneer is great for beginners or if you have a busy schedule, Epic is great if you're looking for a mega challenge, and Maverick is the challenge that's all about you: you choose your distances based on your ability.
Yes, but an adult will need to register them and take full responsibility for them throughout their challenge. Also, please make sure their distance targets are suitable for their ability.
Can I change my challenge between Epic and Pioneer half way through?
Can I change my Maverick challenge target?
a. You'll receive a bespoke Treble challenge 2020 medal at the end of the Treble Challenge when you have logged your distances and been sponsored to do your challenge. Unfortunately you do not receive a medal for doing the individual events. See the medal that could be yours below!
b. This medal has been created by 'A touch of Ginger' who who are passionate about good design, sustainability and supporting dementia research. It was exclusively created for the Treble Challenge.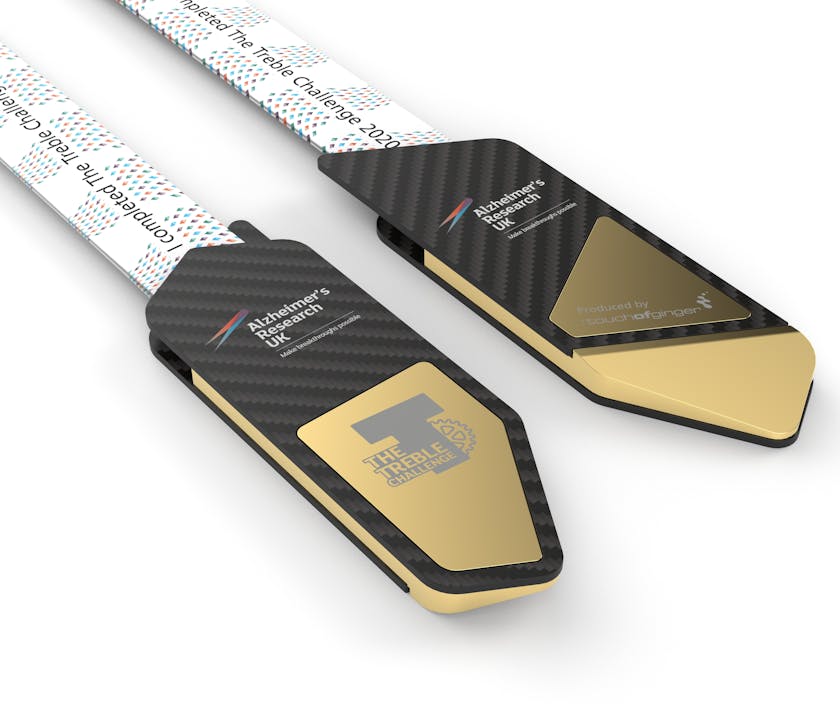 Can I upgrade my Running Down Dementia, Cycling Down Dementia or Swimming Down Dementia challenge to the Treble challenge?
Unfortunately not – your existing challenge pages can't be transferred to the Treble challenge. But any relevant activity you've recorded since 1 April will automatically apply to your Treble challenge too, so you can set up a new challenge within the Treble, however any fundraising you've done won't carry over. Get in touch with us on sportingevents@alzheimersresearchuk.org if you need help with this.
Can I do two activities rather than a triathlon?
Of course you can! You will just need to sign up to these events separately and create separate fundraising pages. Unfortunately you won't be able to receive a Treble Challenge medal unless you complete the full Treble Challenge.
How do I get the merch for these events?
With all of our virtual events, we have merchadise exclusive to these events to make sure you feel great whilst doing them and to make you feel proud to be doing the amazing challenge that you have set yourself. With each of the virtual events, you can fundraise and receive merch for free, or you can buy them from our online shop. For the Treble Challenge kit, you can buy it for a discounted price of £50. All you have to do is add the running top, cycling jersey, swim cap and neckwarmer into your basket in the online shop and the discount will automatically apply. Or if you raise £400 you'll get the Treble merch bundle for free!
For Running Down Dementia, you can buy the running top for £10 or if you raise £400 you'll receive one for free.
For Swimming Down Dementia, you can buy the swimming cap for £5, or if you raise £200 you'll receive it for free.
For Cycling Down Dementia, you can buy the cycling jersey for £35, or if you raise £400 you'll receive it for free.
How good is that? ;)
Can we take part as a team?
Yes! A team can be anyone you like: friends, family, work colleagues or your sports club. When you register, you can create a team or join one if it's already been set up. If you're in charge of setting up the team, follow these simple steps:
1. Create a name for your team while you're registering.
2. Once you've finished your registration and have set up your own team page, use the "Invite Members" button on your team page to send email invitations.
3. If someone else has set up the team, just search for the team name when you're registering and you'll be automatically connected once you complete your registration.
What's the difference between taking part as a team and doing it for a company?
Company: If the organisation you work for has chosen Alzheimer's Research UK as your charity of the year, select your organisation name from the drop-down at signup so your challenge will count towards your company total.
Team: teams are a great way to measure your kms and encourage a little friendly fundraising competition with people you know. Once you've signed up, visit your everydayhero page and click "Create a new team" or "Join an existing team" on the right.
I've taken part in Swimming Down Dementia, Running Down Dementia or Cycling Down Dementia before, can I use the same account for the Treble Challenge?
Yes you can! You can use your everydayhero account login details to register for any of our 2020 virtual events. We'd advise doing a short test run to make sure your accounts are set up correctly and that your tracker is still connected before you start your challenge!
Is there a registration fee?
Nope, all our virtual events are completely free! We just ask you to set yourself a challenge that will push you, and ask your friends, family and colleagues to sponsor you so we can continue funding life-changing dementia research.
How do I log my mileage in everydayhero?
a. If you have a tracking device, then watch the following videos to see how to link your fitness app to your everydayhero page:
b. Strava: https://vimeo.com/195477098
c. Mapmyfitness: https://vimeo.com/195456147
d. If you don't have a tracking device then you can add your activities manually on your supporter page .
I don't have a phone or device capable of tracking my activity, can I still take part?
Yes! You can still set up your supporter page and add your activities manually within everydayhero, the fundraising platform.
Do I have to do the challenge all in one go?
Absolutely not (although we'd be very, very impressed if you did!) You can do it your own way – whether that's doing lengths in your local pool a couple of nights a week (when the pools are open again), cycling on the weekends and running during your lunch break! Whatever you choose to do, it's your challenge, your distance, and your fundraising goal.
Fundraising
a. There are loads of ways you can smash your fundraising target. Have a look at our fundraising page for some ideas to get you started. One great way to ensure donations flow in is by sharing your page with your friends, family and work colleagues.
b. You can also join the challenge Facebook groups to meet and share your story with others.
c. We have loads of tools to help you with your fundraising – from images to post on social media to sponsorship forms. Have a look under FAQs for each challenge page.
How do I hit my fundraising target?
a. To make the most of your fundraising, we recommend you:
• Add a photo – so everyone can see your face!
• Set a target – we know that pages with targets raise more.
• Complete the 'About me' section – tell people why you're challenging yourself for Alzheimer's Research UK.
• Share your page – as far and as wide as you can using email and social media.
• Update – keep updating your page and sharing it throughout your challenge.
b. During the challenge we'll be in touch regularly to help you make the most of your page and share extra fundraising ideas with you!
a. Dementia is one of our greatest medical challenges but at Alzheimer's Research UK, taking on a challenge is what we do best.
b. The money you raise will help fund our pioneering research programmes to make breakthroughs possible for people with dementia and their families. From people to pipettes and from Aberdeen to Exeter, every £20 you raise will power another hour of life-changing research.
c. You can find out more about what we do here.
Donating through Gift Aid means we can claim an extra 25p for every £1 you donate to our life-changing research. It won't cost you any extra but will make a big difference to what we can achieve with your support. Please note, you must be a UK taxpayer to enable us to claim Gift Aid.
Organisations
What is Alzheimer's Research UK's relationship with Garmin?
We're pleased to announce that Garmin has become the official sponsor of our sporting events for the next three years, which also includes the Treble Challenge. We will work together to help reduce people's risk of developing dementia by encouraging them to make positive lifestyle changes.
everydayhero is the platform that's the home of our Cycling Down Dementia website and fundraising pages. We've been working with everydayhero for a number of years on our virtual events. JustGiving is a sister platform to everydayhero and they are both products of Blackbaud.
What is the relationship between Alzheimer's Research UK and parkrun?
Alzheimer's Research UK is proud to be the official charity partner of parkrun UK.
parkrunners have so far helped raise more than £1.5 million for world-class dementia research, which will help us in our mission to bring about life-changing breakthroughs in dementia research.
Who are UKCE and Cycling Weekly? And what is their relationship with Alzheimer's Research UK?
UK Cycling Events (UKCE) is a dedicated cycling events organisation passionate about encouraging all abilities of rider to experience the best cycling the UK has to offer. It runs well-organised, friendly events including road sportives and mountain bike events, which are suitable for riders of all ages and abilities.
Cycling Weekly is a dedicated hub for all things bike-related, including cycling news, a shop, deals, and much more!
Alzheimer's Research UK is lucky enough to be the charity partner with both of these for Cycling Down Dementia and The Treble Challenge.